9 Amazing Day Trips from Lyon, France
Posted On April 5, 2020
Lyon is a great city with so many nice things to do, but one thing I love about Lyon is that it is surrounded by all this great countryside. This makes Lyon a perfect base to do some amazing day trips from. Whether you go north, south, east or west, everywhere you find this stunning regions. Many Lyonnais have outdoor hobbies, like hiking, skiing, paragliding and rafting. If you are staying a bit longer in Lyon, try to do an excursion to one of the beautiful regions around the city.
Annecy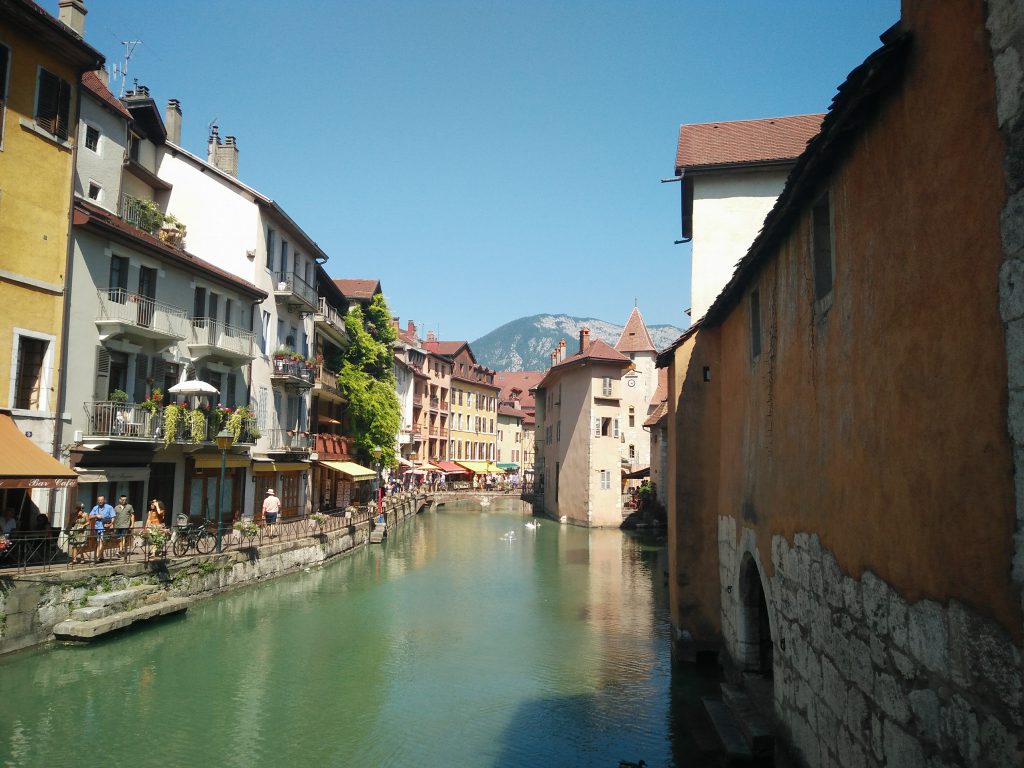 Annecy is a lovely little town on a lake. It is easy to get to from Lyon by train, bus and car for a day trip. I always recommend Annecy, because it is beautiful, but also very different from Lyon. The houses here look more Alpine and the lake is very beautiful and big. It's an easy day trip from Lyon. It can get quite busy in summer, but even when it's busy I can still recommend going. It is such a beautiful place and perfect for a day trip from Lyon.
Pérouges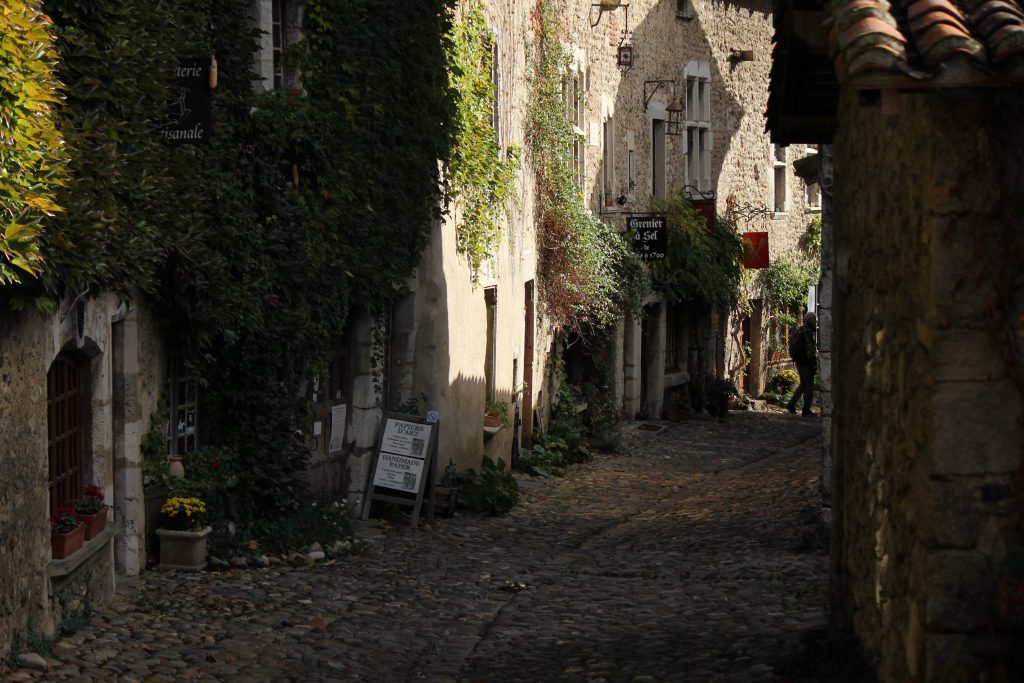 Closer by you can find the medieval hamlet of Pérouges. It is ideal for a quick day trip from Lyon. It is very small, but very charming and only thirty minutes outside of Lyon. You can drive here or take the train to the modern part of the village. Then, you have to walk 20 minutes to the historical center of Pérouges. It is a very charming little village that takes you back to the middle ages.
There are some excellent restaurants in town and some interesting shops. I loved going to Perouges when my parents came over. We went on a cold winter's day, but we still enjoyed the town a lot. It was a perfect day trip!
Day trips from Lyon: Vienne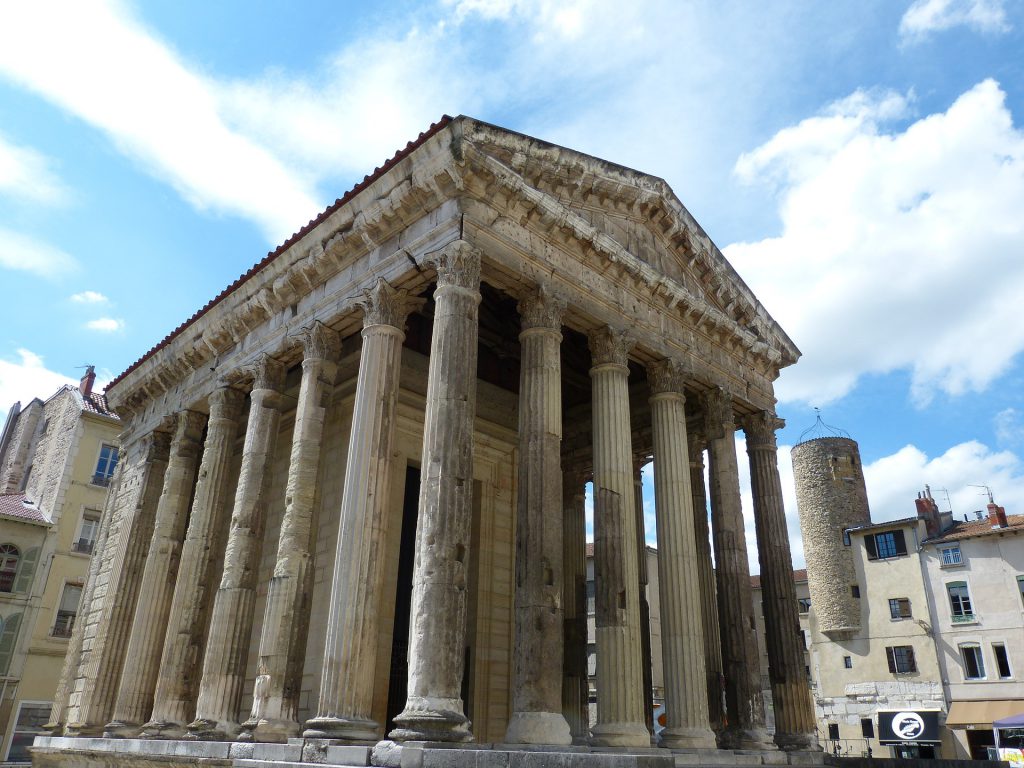 This is a small town on the Rhone river, thirty minutes south of Lyon. It is easily reachable by train and car. Vienne is quite special, because just like Lyon it was very important during Roman times and there are some amazing Roman remains to be visited here. There is an intact Roman temple on the town square and an well-preserved Roman Theatre. But the town itself is also lovely to spend some time in.
I love sitting on the square around the temple to drink a coffee or a glass of wine, while looking at this 2000 year old, almost intact, Roman temple.
The Alps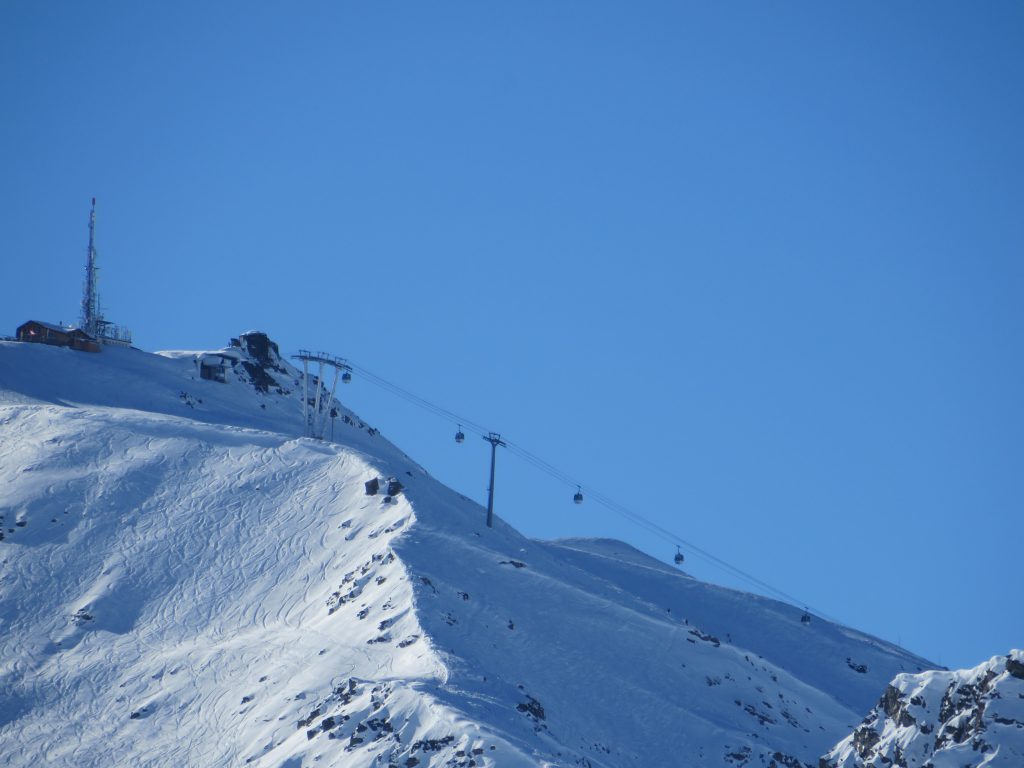 The alps are very close to Lyon. On a clear day, you can see them from the Fourvière hill in Lyon. Almost everybody in Lyon knows how to ski. Many people do day trips to one of the ski resorts in winter. They leave very early in the morning and come back late at night to go skiing the whole day. In summer and spring, the alps are also very lovely for hiking or just enjoying the majestic views over the mountains.
So many of my friends spend some of the winter weekends in the mountains. There are a lot of different ski resorts, and there are even some cheaper ones.
Monts de Pilat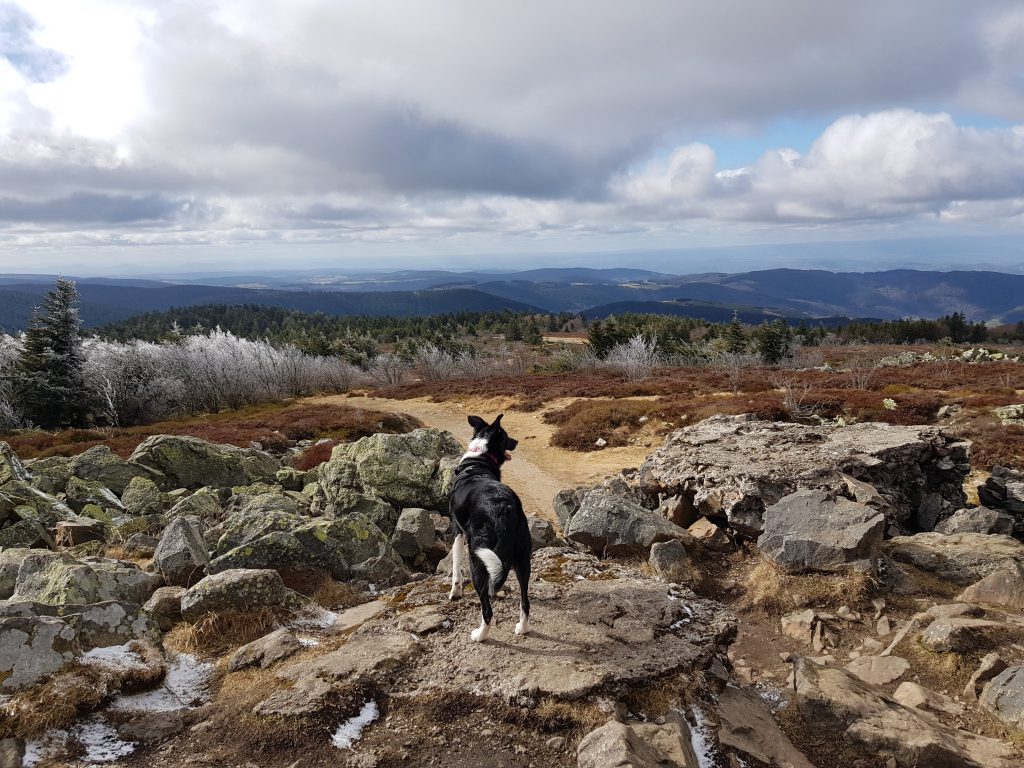 This is a regional park south of Lyon. The hills of the Pilat region are beautiful and very easy to reach by car from Lyon. You can do a hike to the Crêts, the hilltops of the regional park. I love go hike here with my dog Leyla (in the pic). In season, there are a few mountain restaurants open. I love going on a day trip to the monts de Pilat. It is a stunning area. Hiking paths are clearly marked with the time each hike will take.
It's not so easy to reach by public transport. Better get a car to get here.
Day trips from Lyon: the Beaujolais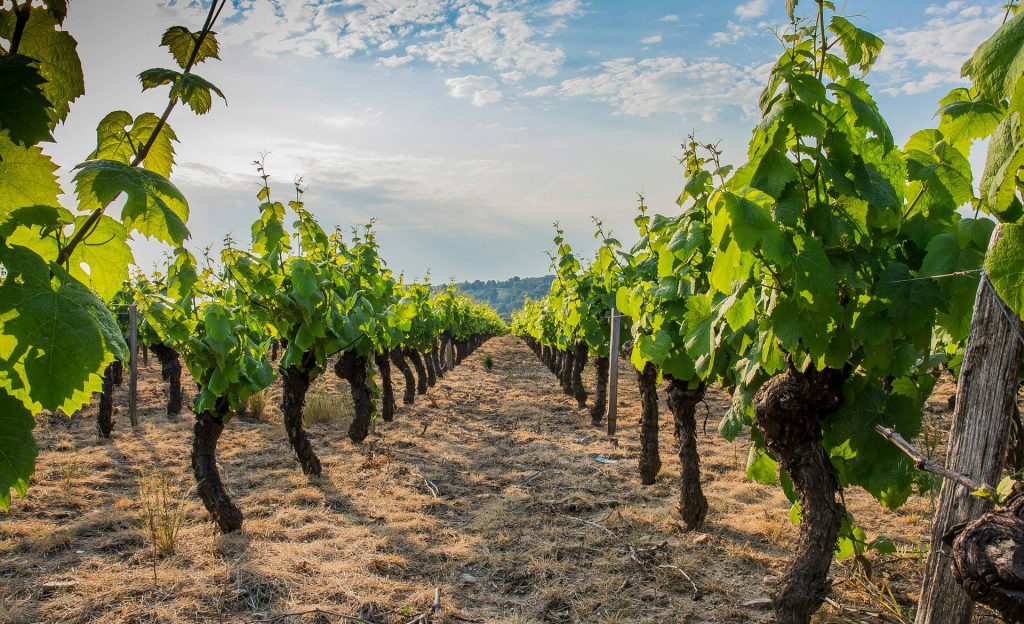 The Beaujolais is the wine country north of Lyon. It is filled with rolling hills with vineyards. There are many little villages here, that all specialize in wine production. Drive a car or a bicycle through the small roads here, where you have beautiful views of the vineyards.
The Beaujolais is easy to reach on a day trip from Lyon. It could be nice to drive up there and then rent some mountain bikes to go around, or go to the tourist office of Lyon to book an organized wine tour of the region.
Vercors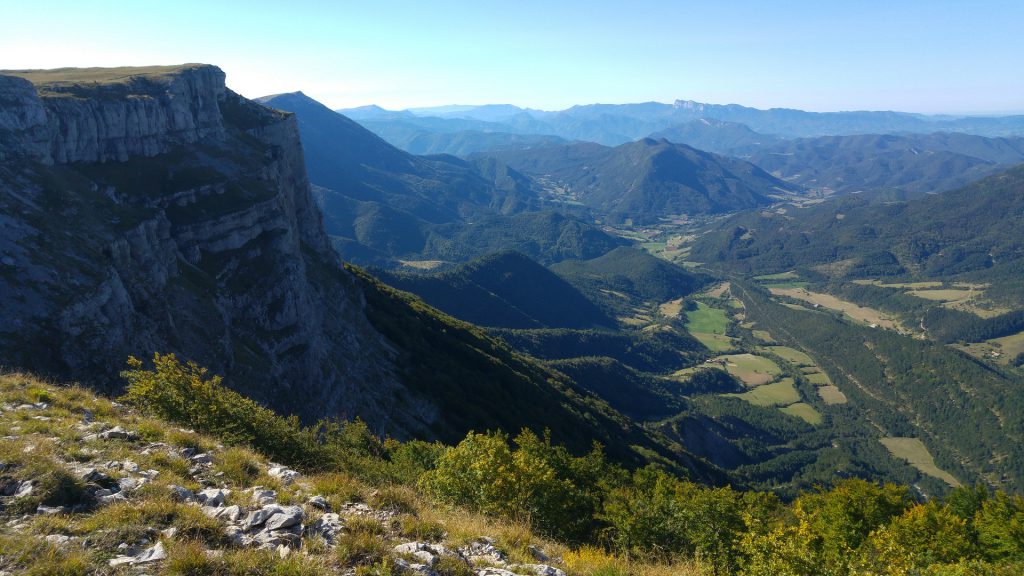 The Vercors is a mountainous region just before the Alps. It is filled with stunning canyons and there are ample hiking opportunities. It is also filled with lovely medieval villages and even some spectacular caves.
I had a lovely week camping here. I didn't know the Vercors before going there, but it is stunning. There are a lot of hiking routes, mountain cabins and camping sites. It's a lovely area to get away from the big city, especially in summer.
Day trips from Lyon: La Dombes
Another day trip from Lyon that is nice to do, is going to the Dombes region. This region lies just north of Lyon and it's filled with thousands of lakes. La Dombes is a plateau where traditionally the Lyonnais go duck hunting and where they get their beloved frog legs. There are hikes to do here and there is also a famous bird park/zoo which is quite nice to visit and accessible by local train.
Monastery of Sainte-Marie de la Tourette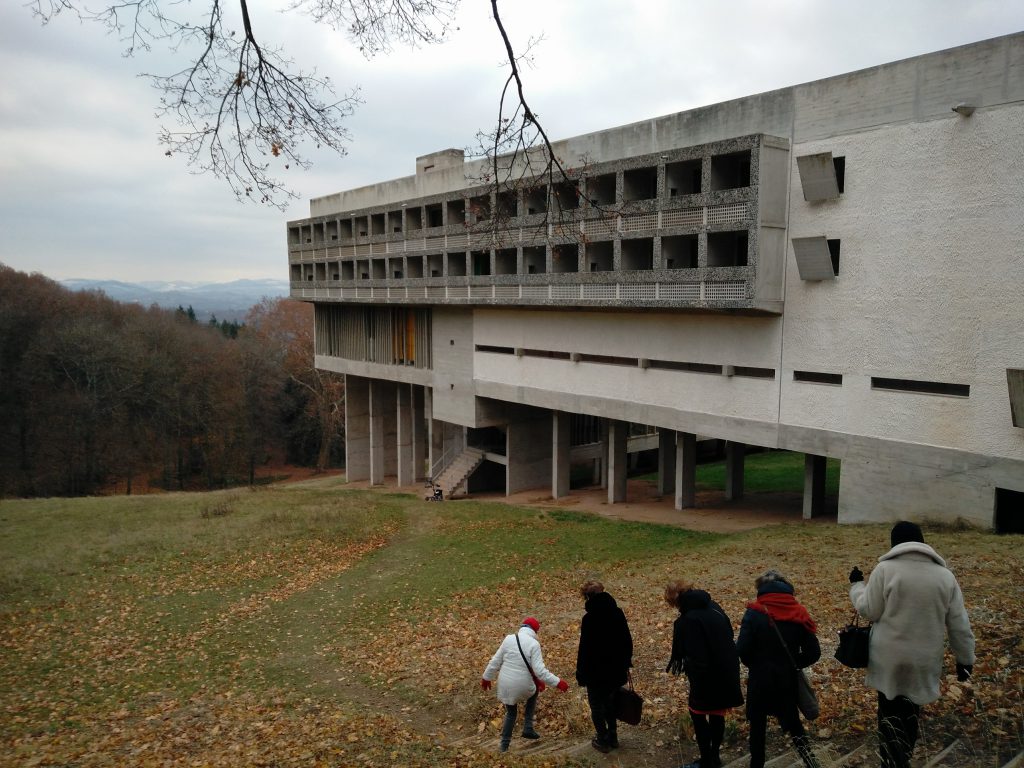 If you are into modern architecture, you could take a day trip to this monastery, not too far west of Lyon. It is not to everybody's liking, but world famous. There is no book on modern architecture that does not have a picture of this building. It was designed by Le Corbusier, one of the great pioneers of modern architecture.
To get here, take a train from St. Paul train station to L'Arbresle and then walk 30m into the hills. There are signs. The monastery is still a monastery so it's not always open to the public. Check the website. If the monastery is not open, you can still walk around it. It is quite peculiar.
Discover all about Lyon, by joining one of my Free Tours
If you want to know more about Lyon and it's surrounding region, join one of my Free Tours!