Best Restaurants in Lyon
Posted On April 5, 2023
This is my list of my favorite restaurants in Lyon. I have never eaten better in my life, since I moved to Lyon. Lyon is called the culinary capital of France, and with reason. Everybody should come here to eat. This list of best restaurants in Lyon is an informal list. I have not eaten everywhere, but I lived here for more than 7 years and have really enjoyed some of these restaurants. Some are cheap, some are a bit more expensive, but they are all great!
All Lyonnais have their own list of best restaurant in Lyon, so if your B&B host recommends a restaurant, go there. There are so many great restaurants here and I have not eaten everywhere. If you know of a restaurant that belongs on this list of best restaurants in Lyon, please tell me about it!
This is my favorite new Bouchon. It is not very traditional, but that can be a good thing. The guys and girls of the Bouchon have created a modern version of the old Bouchon dishes. Everytime someone comes to visit me in Lyon, this is the Bouchon I take them to (or to Le Musée, further down the list). You can find this Bouchon in Rue Tupin, on the Presqu'île (the peninsula where the modern city centre of Lyon is located) and it is definitely one of the best restaurants in Lyon.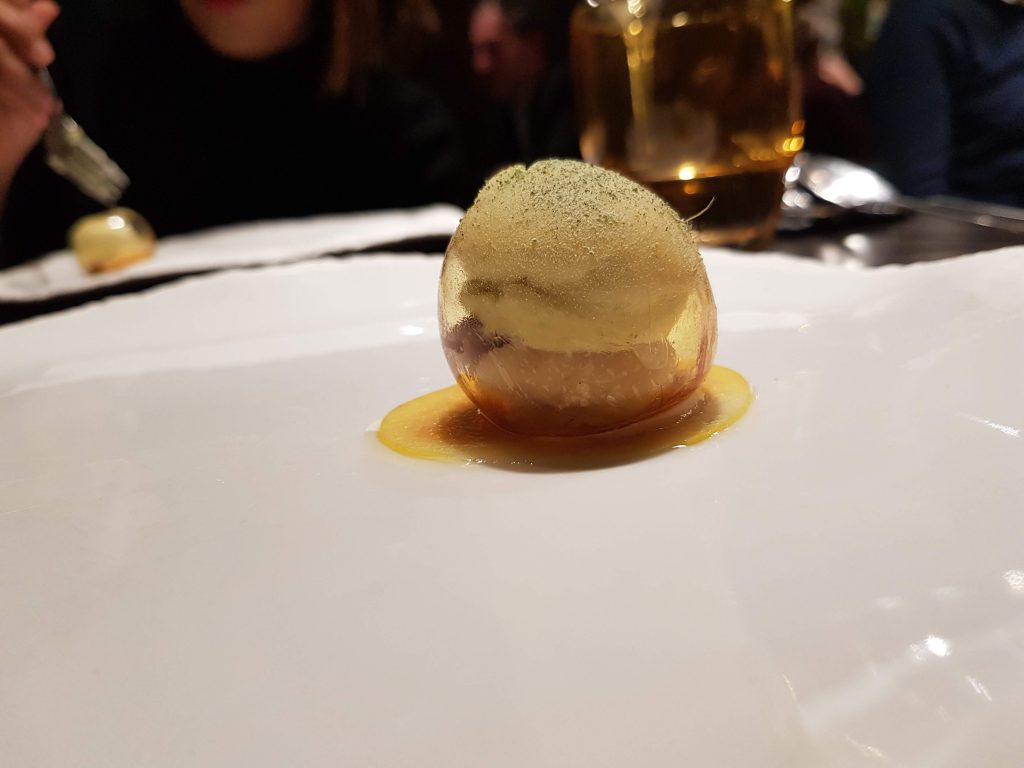 Jeremy is a young chef and his restaurant in Vieux Lyon got a Michelin star in 2017. It is not cheap, but you can still have lunch here for 40 euro, which is not bad for a Michelin starred restaurant. I would advise going in the evening though, to get one of his multi-course set dinners. The food is very surprising and creative. It is definitely modern food and not classic French, but he focuses on the Terroir (local flavors), so even if he doesn't cook the old Paul Bocuse stuff, it is still very much modern French.
Click on Jeremy's name above to check out his Instagram feed to get an idea what kind of creations he thinks of.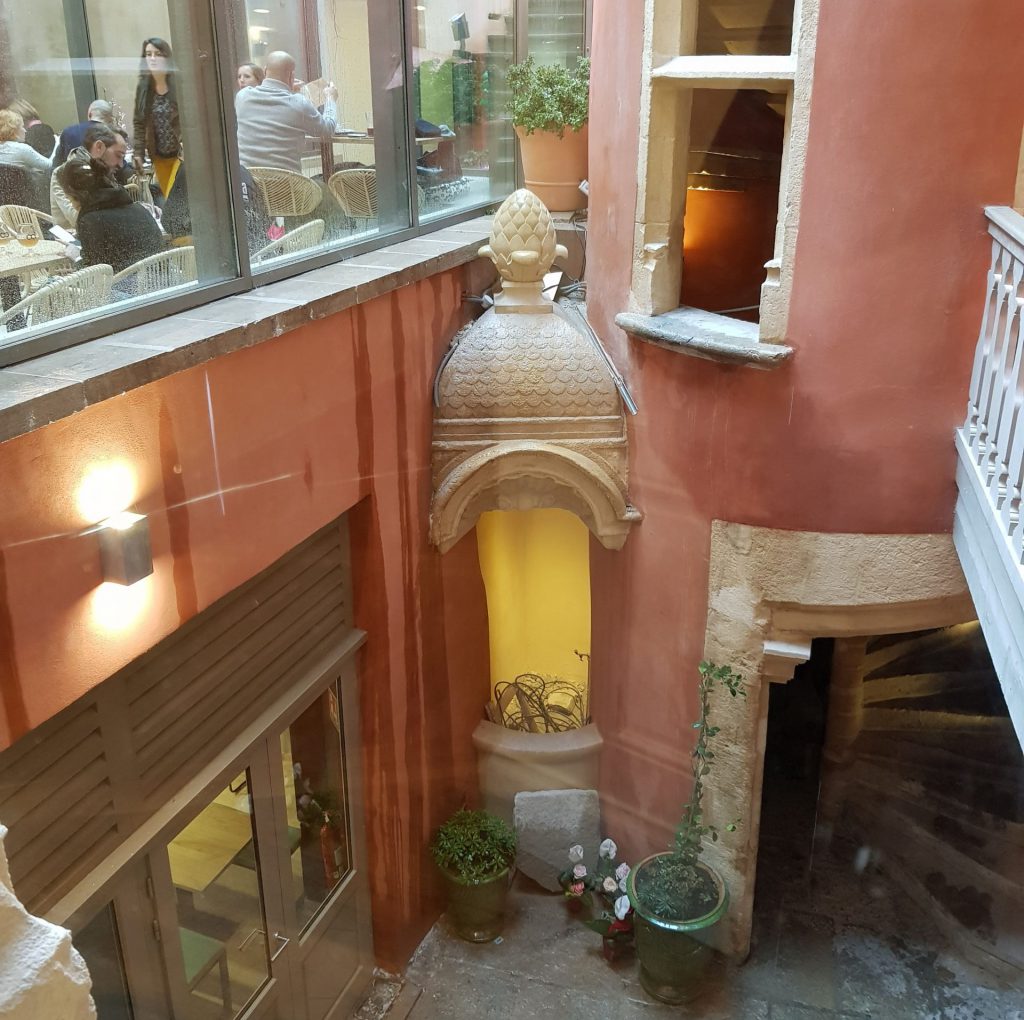 The Food Traboule is not really a restaurant, it is a food court with many small counters inside. I am still including it in this list of best restaurants in Lyon, because the food is absolutely great and the building is very charming and surprising. The food Traboule is very new. It only opened in 2019. A Traboule is a secret passageway, for which Lyon is famous and this food court in Vieux Lyon wants to be a secret passageway full of great food.
You don't find any McDonalds or Burger King in this food court, but little counters that are opened by local restaurants. You can eat very modern food here or traditional. They have coffee and cakes and even a fully stocked bar if you want a fancy cocktail.
The Food Traboule is a project by the team of Les Apothicaires, an amazing restaurant in Lyon that got its first Michelin star in 2020. The food in the Food Traboule is quite affordable though and very good! Go check it out.
Le Musée belongs on this list of best restaurants in Lyon for sure. It is quite an experience to eat here. Here you find big tables filled with businessmen drinking a pot de beaujolais, while eating big traditional meals. Families come to eat here, some tourists and some couples. The owner is quite a character. Try his Saucisson Brioché as an appetizer and take the joue de porc for your main course. I hope you skipped lunch if you reserved here for the evening.
Lovely breakfast, lunch and brunch place in the 7th arrondissement. Not open for dinner, but I had some lovely fresh lunches here. They have a small menu that changes all the time. Nice to go for breakfast as well.
This is a great french vegetarian restaurant on the slopes of the croix rousse hill. It is just around the corner from the Roman Amphitheatre. They provide an inventive and elegant vegetarian cuisine with nice wine to pair it with.
This is one of my very favorite restaurants in Lyon. They were awarded a michelin star in 2020, but it does not feel too formal. You can have a 40/50 euro lunch here. I went with my sister recently and we both loved it. The food is very creative and seasonal and the menu changes all the time. If you want to go, better make a reservation on their website, because it is very popular.
Doma is a Japanese takeaway place that does not serve sushi. There are a few communal tables where you can sit down to eat your food. I was really surprised by the quality of the food they make. It gets quite busy for lunch. They have lovely takeaway boxes and the food is high quality. Japanese food in Lyon is generally not super (cheap sushi places), but there are a few exceptions and this one is not too expensive.
If you really want the best of the best of Japanese cuisine in Lyon, you can go to Takao Takano (2 michelin stars) or Au 14 Février (1 Michelin star), but those places cost a lot!
Want to eat in a more traditional place?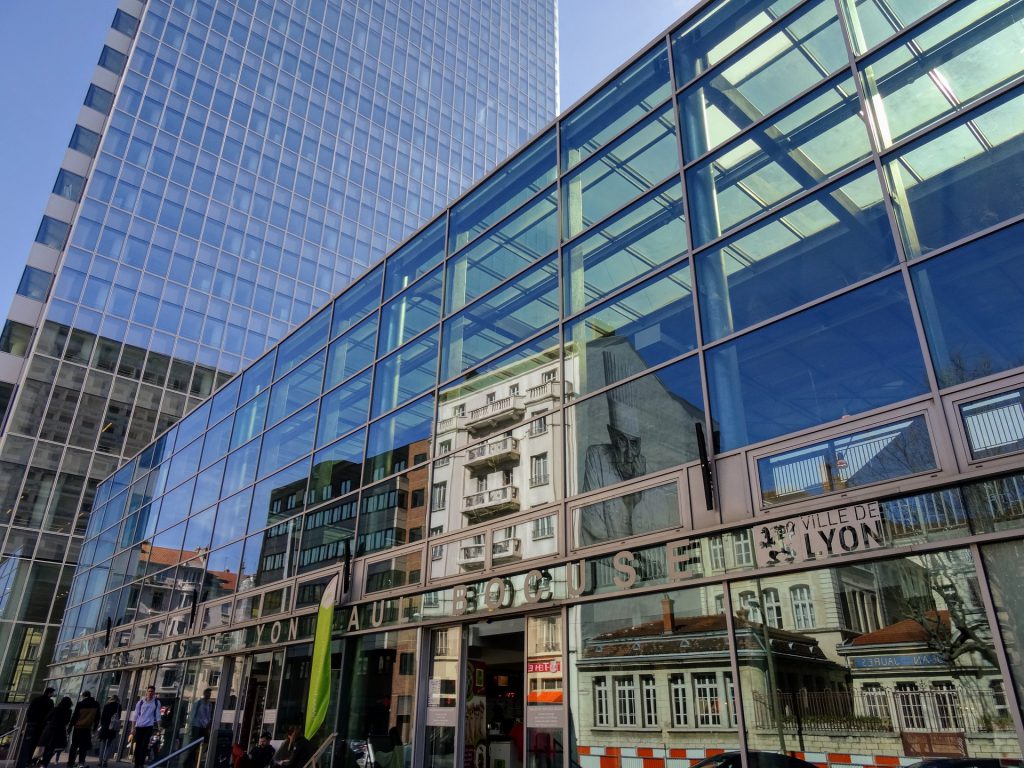 This is not a restaurant, but a world famous covered market. However, you can eat at many of the stands for lunch and sometimes for dinner at all. The Halles are located in the Part Dieu Business district. It is not a very pretty building, but inside you find the finest food producers in town.
Paul Bocuse, the most famous chef from Lyon after whom the Halles are named, used to come here every morning to buy and chat. Bocuse died in 2018, but this market is still the beating heart of the culinary scene in Lyon.
Bocuse was famous for his 3 star restaurant (now 2 stars), but he built a business empire, of which his cooking school is a major part. The Institut Paul Bocuse is a very prestigious cooking school. It's main location is out of town, in Ecully, but L'Institut is the schools restaurant in town, right on Place Bellecour. It is excellent, some people say it's even better than Paul Bocuse's own restaurant and the prices are way lower.
The school has another restaurant, Saisons, in Écully, which got a Michelin star in 2020.
I have to admit that I have never been here. It is the world famous restaurant of Paul Bocuse, and cannot therefore be omitted from this list. It used to have 3 Michelin stars but lost one star in 2020, which hit like an earthquake in the culinary scene of Lyon. It makes sense though, as Bocuse died already a few years ago. It is very expensive (obviously), so I've never had the chance to eat here. So, if you are looking for a lunch partner, feel free to invite me, I'm more than happy to join you for lunch or dinner!